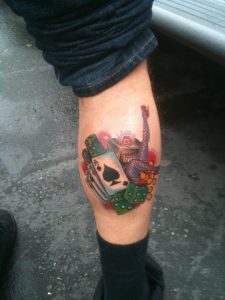 This weekend I got my 7th tattoo. It was a sorta last-minute thing. We had planned a weekend trip to San Francisco mainly to get away to celebrate our 15th anniversary and my two-score birthday by going to Alcatraz (fitting, i know). (side note, Mythbusters is doing Alcatraz escapes). I've been jonesing for a tattoo for the past three years or so, and my wife, when planning the SF excursion, found Black Heart tattoo and made an appointment. I'm Mr Controlling with the tattoos, but decided, after seeing the old school (Sailor Jerry-style) tats the artist I was booked with did, decided to get a very Vegas-y tattoo. Born and raised in Vegas and working in the casino industry, I thought it would be a nice marriage of career and passion by getting an old-school tattoo that might have been stabbed into some guy who just won $100 on the slots in 1958 on his way back to the military. So, I pretty much just told the artist (Nick Rodin) that I was a Vegas native, worked in Vegas-style industry and wanted old-school ink to reflect that. Dice, slots, a showgirl, whatever.
When he was done, the artist said, "bet you were thinking, 'he's trying to make it show up on the other side'" because he was pushing so hard. True. I've never had that kind of pain with a tattoo.
Ow.
It's also my first color tattoo. And I like it. Wrong dice numbering and color and all.
By the way, this was taken at the Alcatraz waiting line.